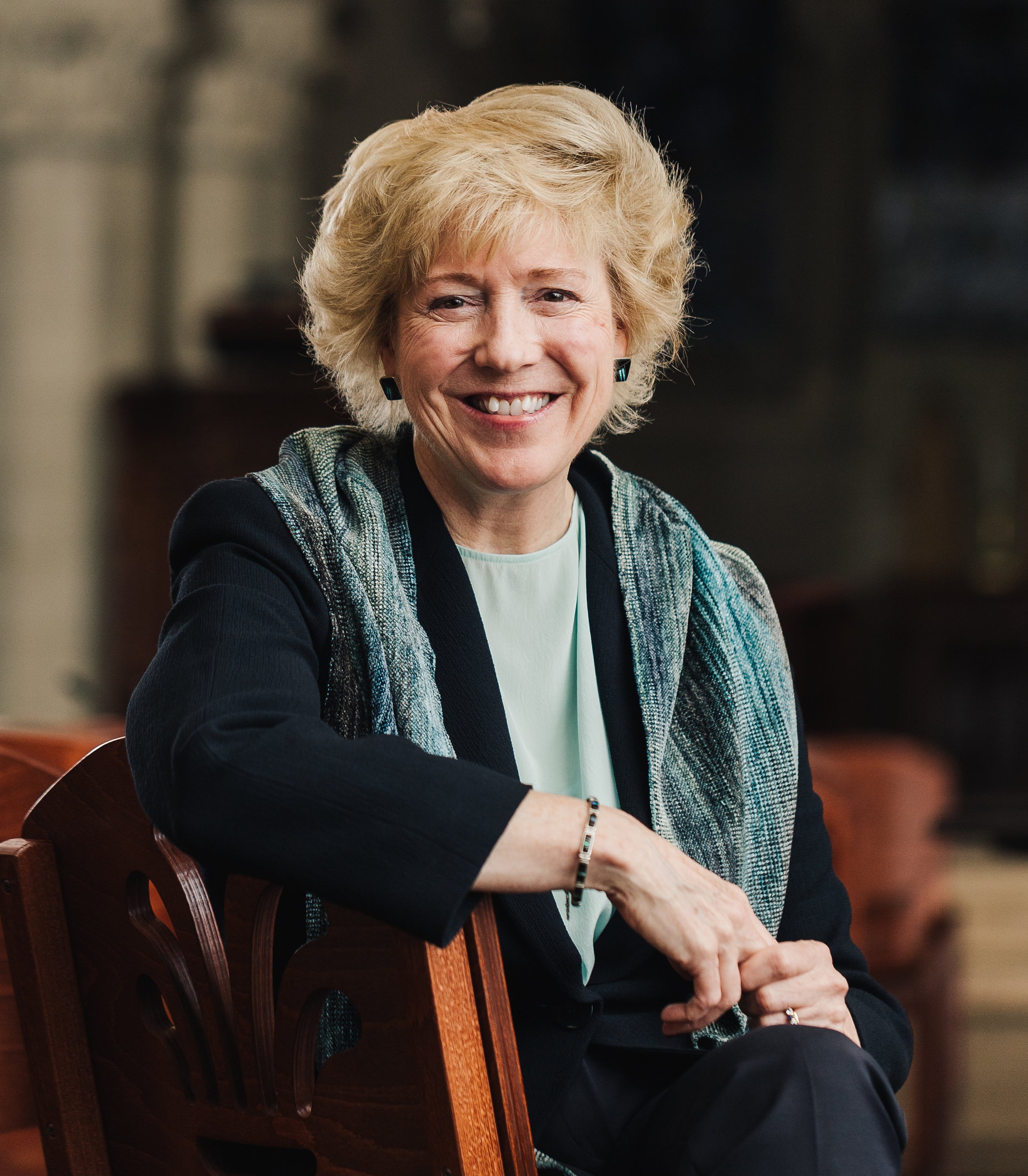 Senior Minister Emeritus
617-536-1970
Nancy S. Taylor served from 2005 to 2022 as the 20th senior minister and chief executive officer of Old South Church; the dual nature of the role reflecting Old South's dual identity as a thriving urban church, and an historic leadership institution in Boston (and, as such, steward of storied events and personages, of a National Historic Landmark Building, as well as a collection of rare books).
Under Nancy's leadership, Old South Church grew in worship services, attendance, participation, programming, national profile, and financial stewardship. The Church, recognized in 2011 as a United Church of Christ (UCC) "Center for Excellence," grew in its vocation as a teaching church and developed an exciting Vision for the 21st Century. The Church exercised ecumenical and interfaith leadership, for instance, in hosting worship services on the inauguration of Deval Patrick as Governor and Marty Walsh as Mayor, convening the leadership who planned services and events on the tenth anniversary of 9/11, addressing growing instances of Islamophobia, and ministering to the city following the 2013 bombings at the Boston Marathon Finish Line. Nancy oversaw the church's 350th anniversary celebrations, the installation and dedication of the church's Columbarium, the establishment of (G)RACE Speaks (sacred conversations on race), and steered the church through an upending pandemic.
Nancy has degrees from Macalester College (B.A.), Yale Divinity School (M.Div.) and Chicago Theological Seminary (D. Min.). Before her call to Old South Church, she served as Minister and President of the Massachusetts Conference of the UCC (2001-2005). During this time, Nancy was instrumental in introducing the legislation making clergy mandated reporters of suspected child abuse; worked to establish a public voice for the UCC; supervised a $1.5 million Lilly Endowment grant for pastoral excellence program; hosted Freedom Schooner Amistad's visit to Boston Harbor; and worked with inter-religious leaders in the aftermath of 9/11.
Nancy served churches in Idaho, Connecticut, and Maine. She co-founded the Idaho Human Rights Education Center (Idaho Anne Frank Human Rights Memorial) and Idaho Voices of Faith for Human Rights. During her tenure as Senior Minister of First Congregational Church in Boise, Idaho, Nancy was instrumental in efforts that successfully defeated two anti-gay ballot initiatives and helped to secure a minimum wage for Idaho farm workers. She was Moderator of the General Synod of the UCC (1999-2001), the highest elected volunteer position in the denomination.
Nancy's ministry has been recognized through several awards and honors: City Mission's Light to the City Award (2019), The Emma Willard School Distinguished Alumni Award (2019), The National Center for Race Amity's Medal of Honor (2018), The Andy Gustafson Generosity Award (2017), The Rabbi Murray I. Rothman Award for outstanding inter-religious leadership (2011); Yale Divinity School's award for Distinction in Congregational Ministry (2009); the Religious Coalition for the Freedom to Marry Building Bridges Award (2006); the Hewlett Packard Award for Distinguished Leadership in Human Rights (1999); Macalester College's George W. Davis Memorial Prize in Religion (1981). She was named among the Boston Globe's "Best of the New Faces" (2005) and has been awarded honorary degrees by Piedmont College (2015), New England School of Law (2010), and Albertson College of Idaho (1998).
Nancy co-chairs the Dean's Advisory Council at Yale Divinity School. She is an independent trustee of Pax World Funds, and is chair of the Funds' Governance and Nomination Committee. She serves on the Advisory Boards of both the Miller Center for Interreligious Leadership (Hebrew College) and the Center for Religion an American Public Life (Boston College). She is a trustee of Revolutionary Spaces, and trustee emeritus of the Benjamin Franklin Cummings Institute of Technology.